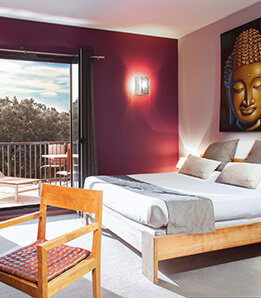 During your visit to the Disini Luxury Hotel, located at the gates of Montpellier, you will stay in one of the hotel's 16 rooms and suites, in an "ethnic chic" style.
Thanks to its perfect location, near Montpellier and in the heart of the Languedoc region, you will enjoy the calm of the oak forest during your stay, while remaining connected to the outside world.
The upscale hotel has16 rooms – including 1 suite – from 28 to 70m² where the living space is elegant and spacious. The hotel rooms with modern comfort are designed to offer you a pleasant and relaxing stay thanks to a 160 to 180x200cm bed, a large 300L bath, free WiFi access, a mini-bar, …
Each room at the Disini Luxury Hotel is unique, personalized because it is inhabited differently.
Solid woods, mother-of-pearl, leather, waxed concrete, terrazzo, pebbles, marble, natural fibers, etc. rub shoulders with the clean lines of design, thus creating a soft, cozy and comfortable atmosphere.
The low lights, the warm tones of chocolate or purple, the surrounding calm and the outdoor landscapes of wild beauty provide a real feeling of escape.